Emile Henry Baguette Baker - Burgundy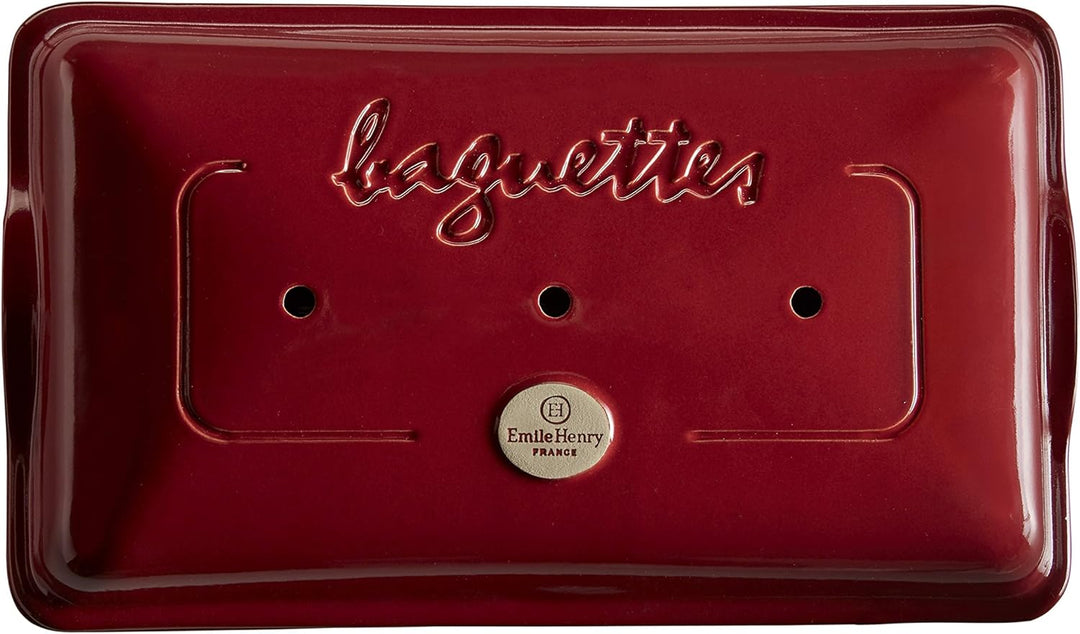 Emile Henry Baguette Baker - Burgundy
Regular price
$19293
$192.93
In stock, ready to ship

Inventory on the way
Emile Henry Baguette Baker - Bake Perfect Baguettes!
Experience the joy of baking your own baguettes with the Emile Henry Baguette Baker in Burgundy. This baker is designed to make baking delicious and crispy baguettes easy and hassle-free.
Key Features:
Made in France: Crafted in France using all-natural materials and Emile Henry's proprietary Flame technology.
Great Shape: The unique design with holes in the base and lid helps the dough rise and create a dry, crispy crust.
No-Stick Design: Thanks to the ribs, the dough won't stick to the baker, ensuring perfect baguettes every time.
Perfect Crust: The holes in the lid contribute to creating a thin, crispy crust, just like traditional French baguettes.
10-Year Guarantee: This baker comes with a 10-year warranty against manufacturing defects when used in a household environment.
Bake Like a Pro
Transform your kitchen into a French bakery with this baguette baker. Made from Burgundy clay, it provides even and gentle heating, allowing excess moisture to escape through vent holes. This results in a crisp crust with a good interior crumb structure. The three cavities help shape the dough into three ideal baguettes.
Emile Henry takes pride in its tradition of quality and craftsmanship dating back to 1850. Each piece of cookware is formed and hand-finished by skilled artisans in France, in Marcigny in the South of Burgundy. This baker is a testament to their commitment to excellence and comes with a ten-year guarantee.
Product Specifications:
| | |
| --- | --- |
| Material | Clay |
| Brand | Emile Henry |
| Color | Burgundy |
| Shape | Round |
| Special Feature | Dishwasher Safe |
| Product Dimensions | 9.4"D x 15.4"W x 4.5"H |
| Specific Uses For Product | Freezer safe, Oven-safe, Dishwasher safe |
| Occasion | Wedding, Christmas, Birthday, Valentine's Day |
| Included Components | Emile Henry Made In France Baguette Baker |
Discover the Pleasure of Baking Baguettes
Fill your kitchen with the rich, magical aromas of a French bakery by using the Emile Henry Baguette Baker. It's perfect for baking artisanal breads, ensuring that your baguettes retain the ideal amount of humidity while baking.
This baker is not only oven-safe but also safe for use in the broiler and microwave. It can withstand temperatures of up to 515°F, allowing you to use it for various cooking techniques. The attractive, scratch-resistant glazes are lead and cadmium-free, providing an ultra-smooth and virtually nonstick cooking surface.
Cleaning up is a breeze as this baguette baker is dishwasher safe. It even includes a recipe book to inspire your baking adventures. Emile Henry provides all-natural, durable, shock-resistant elegance for the modern kitchen.
Experience the Tradition of Emile Henry
Since 1850, Emile Henry has been producing a wide range of high-quality ceramic cooking utensils in France. With a 10-year guarantee, their products are made from natural materials and designed and manufactured in Southern Burgundy. Controlled production, waste reduction, and responsible use of resources are integral to their commitment to sustainability.
Every piece of Emile Henry cookware is crafted in France, in Marcigny in the South of Burgundy, following a tradition and savoir-faire that has been passed down from generation to generation. Each worker prepares their molds, produces their dishes, and signs each one with their initials, ensuring a pledge of quality for all their production.
Discover the pleasure of baking your own baguettes, crusty and full of flavor! Easy to use, you just place the dough in the holes, cover with the lid, and put the mold in the oven. Thanks to the ribs, the dough will not stick, and the lid creates the right level of humidity for baking delicious baguettes. The holes in the lid allow the carbon dioxide to escape during cooking, creating a thin, crispy crust that is so special to French baguettes. The mold can be cleaned in the dishwasher. This baker is also resistant against temperature changes, allowing it to go from the freezer to the hot oven without any issues.